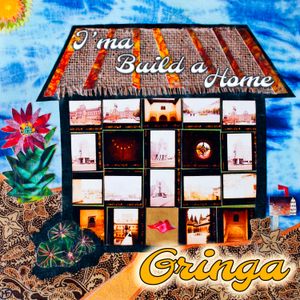 We are very excited to announce the release of our first single, "I'ma Build a Home", on November 12, 2015! 
This song, written several years ago by Maya, was inspired by her relationship with a guy named Plinio in Salvador, Brazil, and is told through his point of view.  It was originally recorded with the band TropiCali, and we'd like to thank members of that band who contributed drums, bass, or percussion on the recording: Paulo Presotto, Fabio Reis, Roberto Rios, Darren Kennedy.
TropiCali split up before the track was finished, but Maya continued producing it and added the backing vocals of Gringas Kate (also former TropiCali member) and Diana, as well as the trumpet of Mario Alberto Silva. Special shout-outs to those who helped with the engineering: Jenny Thornburg, Ryan Kleeman, Robin Applewood, Nathan Bauld. 
The song will be available for download on our website and in all major online stores as of November 12. 
The artwork for the single, done by Maya, is a mixed media piece using mostly recycled materials.
Come celebrate with us at our release party at El Rio in SF on November 12!!  Check out the details on our
Shows
page.